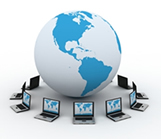 Our e-Learning program offers students anywhere the opportunity to study without the constraints of physically being in a classroom. If you're new to the idea of learning through computers and internet, we help make the journey easier. The program provides you with self-study video lectures and lecture notes on our learning platform vTutor Connect.
vTutor Connect you have access to video lectures, enotes, live chat with tutors and more.
We know some students do prefer the face-to-face interaction and real-life discussions found only in the classroom. Our e-learning program is therefore structured to give you more interaction with fellow students and so as to meet the needs of people who prefer that. With live chat, you can easily connect with peers across the country.
Why e-Learning
Our e-learning program gives you the opportunity of learning with ease with aid of video and audio lectures from the expert in the industry wherever you are in Nigeria. The is the first of its kind in Nigeria and we offer the best opportunity to help you pass your exams once.
 Cost
The vTutor Connet classroom gives you the flexible to learn online at your own pace and time with detailed explanation from our lecturers on each topic of the syllabus to help prepare adequately for your exam. You can learn online at our website and also on your mobile phone with Mobile Apps. You can visit our e-learning site at 3vlearningcentre.com/portal
The e-learning tuition cost per paper for each tuition is
Knowledge module:   #10000 per paper
Skill module:                #15000 per paper
Professional module: #20000 per paper

Enrol Today
To enrol in our e-learning program, kindly forward a mail to us so that we can select the package right for you and the appropriate lecturer to work with you.
You can mail us at This email address is being protected from spambots. You need JavaScript enabled to view it.